My mission is to create positive change in your life through my craft. Transforming materials that come from nature, into beautiful pieces that carry a high vibration, bring joy & make you feel alive!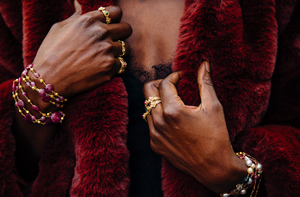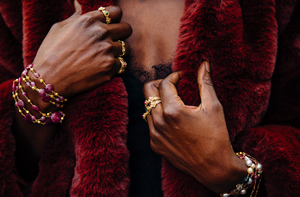 Our love affair with GOLD
This luminous metal has captivated the inhabitants of every continent throughout the ages, gold is timeless!
Choose Color & Joy
My jewelry is a reflection of my life travels, experience growing up in  South America, & my love of nature, culture, art & color. I design nature inspired, colorful jewelry for the person who values quality, & thinks everyday is an occasion to surround oneself with beauty & things that bring joy!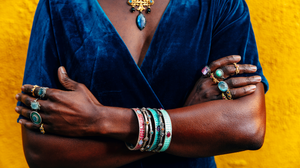 Jewelry is the most transformative thing you can ever wear
★★★★★

"As always, Vanessa Mellet's jewelry is stunning. I have never been disappointed with any of the purchases I have made from this outstanding jewelry artist. It is worth every penny. Beautiful stones and workmanship."

Hilary H.
★★★★★

"Vanessa's jewelry is unique and beautiful. It's makes wonderful very special, long lasting gifts."

Pamela P.
★★★★★

"I love doing business with Vanessa! Her jewelry is always made with love & I feel wonderful wearing it! She always ships out quickly & has great sales as well!"

Raina S.
★★★★★

"Thank you! Such a beautiful pair of earrings. Well made and elegant. I love wearing your mini pieces of art! Arrived quickly & were safely & lovingly packaged."

Norma Alicia
★★★★★

"Vanessa is my absolutely favorite jeweler! Her designs are always elegant & colorfully alive using beautiful gems & enamel work & of the best quality. Thank you Vanessa!"

Marianne
★★★★★

"Always absolutely amazing. My wife has never been disappointed and always beyond happy when I get her a gift from Vanessa. Gets it to me as soon as I need it. Always in time."

Jason G.
★★★★★

"Surprisingly light & comfortable for large earrings. They are very unique & I feel beautiful wearing them."

Michelle
★★★★★

"Thank you so much for making my world more beautiful & delighting me!"

Ani M.
★★★★★

"So elegant! I believe that beauty & craft are especially important now. While I can't dress up for concerts, museums, the opera for now, I can still bring smiles to passers-by on socially distancing walks or the market."

Judith H.
Follow me on Instagram
@VanessaMelletJewelry