About the Brand
"As an artist I believe that hand made things have a different frequency & that the love a creator puts into an item is transferable. Historically,  jewelry has had special significance in all cultures, a way to express  yourself through adornment & color, & create memories across  generations. Jewels are small treasures that get passed onto future generations!  
Every piece that comes out of my studio in Oakland, California has  been made by me. Unless I have the piece in stock, when you order  something, I will make it just for you!  Because I deeply care about our planet, I make heirloom quality pieces that withstand time in the hopes of avoiding the harmful culture of disposable fashion.
I design & make all my own components & prioritize domestic  handmade production with a lower environmental footprint. By choosing  one of my pieces, you drastically lower the carbon footprint & heavy  waste from machine-made, imported jewelry.
I use recycled precious metals, buy pearls from suppliers that encourage ethical & environmentally sound farming practices, use ethically sourced stones whenever possible, & reuse & recycle packaging and shipping materials. In a world of mass production, handmade is the true luxury! 
Having a positive impact on the world is important to me, so I have  incorporated it into my business model by donating locally & auctioning pieces to benefit different causes & organizations that I consider are doing good work. Click here to learn more. I believe that  living with purpose is important, everyday is an occasion to elevate your life experience & make a difference in a positive way!"
- Vanessa Mellet
xo
Vanessa's Story
Vanessa Mellet is a Peruvian American artist, jeweler & designer. She makes her jewelry by hand in her colorful Oakland, CA studio, surrounded by stacks of luminous gems, trays of work in progress & sleeping cats. She is inspired by the rich colors found in nature & by organic forms like leaves and flowers. Her unique way of mixing colors, mediums & textures, with motifs like birds & flowers lend a timeless & bohemian air to her work. Her jewelry reflects her colorful & joyful aesthetic & way of life. Vanessa hand makes vibrant & chic heirloom pieces that will bring joy & beauty to everyday life for generations to come.
Vanessa was born to artist parents, so it is not surprising that she chose the life of an artist; creativity, a love of art & adornment run in the family. At age five she was making cards which she sold to family friends in Peru, & by age eight she was selling macrame hair ornaments to a trendy boutique in Brazil. The formative years of her life were spent in South America, mostly Peru, where the vivid colors of local markets, traditional costumes & the vibrancy of nature left a permanent mark on her aesthetic sense.
At fourteen Vanessa moved to California with her family. She started going to the local college where she explored various artistic mediums before focusing exclusively on jewelry. Before launching her own line at the age of twenty one, Vanessa began her career under the apprenticeship of her jeweler mother Musi. Curious about enamel, Vanessa & Musi studied various enamel techniques with Sandie Bradshaw & Judy Stone. Enamels opened up a world of color & allowed Vanessa to translate her love of vibrant colors into her jewelry.
Each year, Vanessa & her mother, Musi, travel to Brazil & spend a couple of months side-by-side, designing, creating & making new prototypes for each of their collections. The exploration of new ideas & forms is done in a rustic workshop with no power tools, located in the remote luscious mountains of Brazil. Time together at their nature retreat provides a rare opportunity to relish in each other's company & feed off each other's creative energy & feedback. The finishing of prototypes is done once she's back in her Oakland studio - power tools in hand. Her daily strolls through the countryside with its cacophony of sound & color are a nourishing environment that feeds her aesthetic sense & magnifies her capacity to create.
Vanessa exhibits her work at various galleries throughout the United States & at premier art events in California. She can also be found happily eating her brother-in-law's cooking with her sister & niece in San Francisco.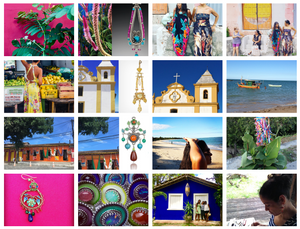 Follow Me on Instagram
@vanessamelletjewelry