I love Vanessa's earring wires!
I have been revamping my older earrings with Vanessa's earring wires. I no longer like posts, clip or screw earring so have worked with my jeweler to convert my collection to ear wires. They are so beautiful with the sweet little gem stones and have a new life. Thank you Vanessa!
Unusual essentials
I've always loved Vanessa's unique ear wires--they're pretty and stay in place without any little pastic doodads. Now they're available for upgrading any earrings. The gemstones make them extra special.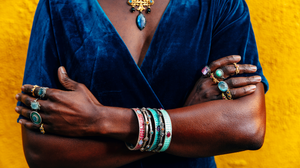 By choosing  one of my pieces, you drastically lower the carbon footprint & heavy waste from machine-made, imported jewelry.